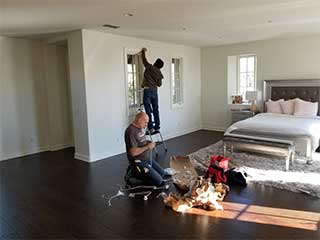 For over a decade, Blinds & Shades Oceanside has been the industry leader when it comes to providing top-quality window coverings that will reflect your style and fit within your budget. Our experts are fully dedicated to customer satisfaction and will leave no stone unturned in the quest for your perfect window treatment solution. Transform your windows and experience your living and work spaces in a completely new light.
Your Team of Professionals
We pride ourselves on our exceptional workforce. Our window coverings experts stand behind our industry-leading customer service and know what it takes for a job well-done. Let us choose, source, and install your window coverings solution correctly and on schedule. Whether you're looking for faux wood blinds, cellular shades, shutters, or anything in between, have complete trust in our experts - they know these products like the back of their hand.
Customer Service You Can Count On
When you shop through us, you'll find much more than just great window coverings. Whatever the size and scope of your project is, you'll find there are great people behind the phone trying to fulfill your vision. Whether you're looking for a simple solution or have a more complex project in mind, our team will patiently work by your side to deliver the results you're after. That's because we put strong emphasis on excellent customer service and satisfaction.
Top-Quality Window Coverings
Update your home or office window blinds and shades with top-of-the-line products from our store. Whatever your preferences are regarding style, functionality and additional features, our team can match them. Rely on us to source top-quality aluminum blinds, roller shades, Roman shades, drapery and much more. Our company is your one-stop shop for the best window treatments that will fit your decor, your energy efficiency needs, personal taste and budget.
Simple & Convenient - Our Motorized Solutions
Automatic and motorized solutions are becoming increasingly popular among our customers who want a convenient solution for their high-reaching windows or large project. Synchronize your window coverings to automatically operate depending on the time of day or control them with a simple click of a button. Our range of products comes with a variety of customizable options, including motorized treatments for your ultimate convenience and peace of mind. Protect your property in Oceanside and increase privacy while also adding a touch of elegance and modernism with our range of automated solutions. Let our experts recommend the right solution for your project and enjoy your new electric blinds and shades for years to come.
Here's why you should choose us:

Highly Experienced Team

Warranty on All Products

Most Competitive Pricing

Personalized Customer Service