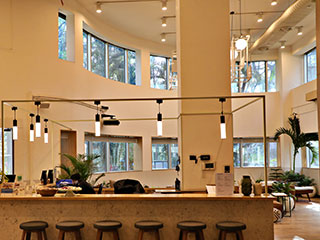 With regular covers for windows and alike, you have to manually pull the shades or blinds down or lower them via rods or strings. With motorized blinds, you only need to push a button. This excellent benefit of motorized window coverings makes them great for all types of uses. From high windows to sliding glass doors to glass walls. Motorized blinds and shades provide an efficient and effortless way to block sunlight inside or outside your Oceanside property. Many choose motorized blinds for their high-tech style, but did you know these automatic window coverings can also save you money? Our made-to-measure motorized window blinds and other electric covering solutions provide maximum energy efficiency in a variety of ways. Excellent for patio doors and as patio covers, motorized shades and blinds have plenty of versatility to make them great for all sorts of purposes.
Energy Saving Motorized Blinds
Optimizing your use of natural light to brighten up indoor areas can help reduce your spending on electrical lighting. But it can also help you save money on energy in other ways. Motorized blinds with timers can help you maximize the thermal efficiency of your property. This way, you can better cool or heat up your interior environments. The motorized blinds will keep warm sunlight at bay or let it stream inside and add warmth. With cellular shades, energy efficiency all on their own, and blinds motorization features added on, your Oceanside home, store, or office space can benefit from excellent energy efficiency. By spending less money on energy, you can wind up saving quite a lot over time.
Motorized Window Coverings – Power Sources
The most obvious options would be wired motorized blinds that connect to the main power grid. These can offer you fast movement and simultaneous operation of multiple sets of motorized blinds. Alternatively, you can choose battery-powered motorized blinds, which will receive their power from a designated pack. These automatic covering solutions with battery power are fast and easy to install. However, the battery pack tends to stick out more compared to the more aesthetic nature of wired electric blinds. Thinking about more eco-friendly solutions? Good news. Nowadays, solar-powered motorized blinds or shades have also become viable options. With solar panels wiring, your motorized blinds can feed off the energy from the sun. Each option presents different pros and cons that our Oceanside motorized blinds installers can explain in-depth during the free consultation.
Best Blinds to Motorize?
Choosing the actual type of coverings you want for your Oceanside residence or business establishment depends on various factors. You want motorized blinds that work without issues day and night, sure. But you also want something aesthetic maybe. A nice touch of décor to add to the color scheme and palette? You can get motorized Roman shades for elegance or electric sliding curtains even. Motorized roller shades have grown tremendously in popularity too. Any option you might consider, our professional motorized blinds specialists in Oceanside can help with. Talk to our experts for free estimates on any motorized blinds, shades, or draperies for any part of your property.