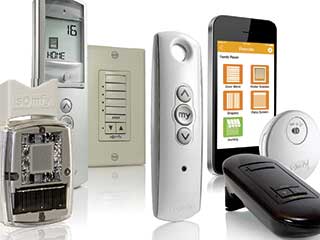 Smart window coverings and other shading solutions give you a way to control sunlight and indoor temperature automatically or with advanced technology. Somfy blinds, motorized with silent operators and Wi-Fi/Bluetooth communication, offer a variety of features and options for every type of glass surface. From smart motorized window blinds that connect to your smart home system to roller shutters and motorized drapery for a certain decorative touch. And let's not forget about awnings and patio covers, motorized pergola screens, and more! All sorts of shading solutions can utilize Somfy controls for the best results. With help from Somfy Oceanside experts, you can find the perfect options for your business or residence before placing an order.
Smart Home Window Blinds and Shades
Introducing smart Somfy blinds to the world of motorized window covering solutions created a unique way to control natural light levels indoors. Somfy smart blinds can integrate with your Google Home or other smart home systems. That means you can control them from a single source, in any way you choose. Yes, that includes voice commands too! Oceanside Somfy smart window blinds installers can help you pick the material and design template that best works with your décor. After all, utility is hugely important, but aesthetics are just as crucial.
Motorized Drapery – Blackout or Sheer
Combining the old with the new, motorized window curtains and drapes gives you tremendously beautiful covering solutions that utilize the latest advanced Somfy control technology. Blackout curtains are excellent for Oceanside bedrooms or any section where you want complete privacy at times. Sheer drapes or curtains can diffuse sunlight and soften the natural light ambiance created by it. Motorized drapery with Somfy controls offers you aesthetic décor improvements that also offer a lot of functionality.
Pergola Screens and Patio Covers
From small awnings that roll out to extend the patio shade to full rolling screens on the sides of pergolas and gazebos. Somfy outdoor shades, motorized with the latest technology, give you the perfect way to protect outdoor lounge areas from harsh sunlight and other weather conditions. Motorized patio covers offer Oceanside backyards and other outdoor properties beautiful complementary designs too. Your Somfy pergola screens or awnings can match, creating a stylish look that also comes with motorized utility features.
Motorized Rolling Shutters For Windows
A more tactile option than Venetian or vertical blinds, motorized window shutters bring with them better security. With a large sheath of shutters covering window walls or also forming a secure barrier against entry. Smart Somfy rolling shutters can sport various colorful designs to make them more eye-appealing for different décor choices. You can connect these custom made rolling window shutters with Wi-Fi, utilizing smartphone control or other methods.
Best Oceanside Somfy Shading Solutions Near You
For all close by areas, we offer free estimates on all Somfy window treatments and motorized outdoor shades. No need to waste hours looking for new motorized blinds, shades, or shutters and trying to figure out what look and properties will work best for you. With help from our local designers and technicians, you can find smart Somfy blinds or other shading solutions for any Oceanside area home, business, or other property. So call anytime to schedule your free in-person consultation appointment!