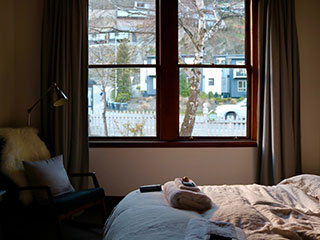 Drapery contributes not only to sunlight control capabilities but to interior décor as well. With the right set of window curtains, you can add aesthetics to the room while having a functional way of reducing or increasing the presence of natural sunlight. Blackout curtains for bedrooms and other spaces can eliminate all light from the outside when fully drawn. This main attraction point of blackout window curtains makes them great for Oceanside area homes as well as businesses. Blackout curtains give you privacy, create optimal sleeping conditions, and improve décor. And they don't cost a lot too. Cheap window curtains can still maintain a high quality of the fabric. This makes blackout window curtains the full package for many windows.
Blackout Bedroom Window Curtains
It's quite clear why blackout curtains work so well for bedroom windows. You need sleep to stay functioning day in and day out. For sleep, you need the right conditions, otherwise, you keep waking up or have a hard time falling asleep. To facilitate good sleep, you need darkness. And that's where blackout curtains come in. With these room darkening window coverings, you can create complete darkness inside your Oceanside bedroom. Blackout window curtains prevent sunlight or streetlight from streaming inside. This helps your brain fall asleep and stay dormant until it's received an adequate amount of rest, or until the alarm goes off. With sleep being so crucial for proper health, blackout bedroom curtains offer a perfect shading solution for many properties.
Get Motorized Curtains For Windows
Whether you choose motorized curtains for convenience or efficiency, you get excellent solutions for shade. Motorized blackout curtains offer bedrooms and office spaces a fast way to control sunlight. Forgetting to draw the curtains before getting into bed can prove very annoying. Well, with motorized window curtains you no longer to go through the excruciating ordeal of having to climb out of bed to draw the draperies. You press the button on the remote control and the motorized curtains blackout the room for you. This saves you needless effort, sure. But it also helps with efficiency. You can improve thermal efficiency with blackout window curtains with thick fabrics too. This leads to pleasant sleeping conditions in the indoor climate you choose.
Blackout Window Curtains For Oceanside Living Rooms
Besides bedrooms, blackout window treatments can offer benefits to many other areas. With living room windows, blackout curtains provide a great way to enhance the TV watching experience. You can have movie nights with the perfect atmosphere with curtains that can blackout the room. Only the glow from the TV will illuminate things, creating the perfect setting for movies or shows. Also, blackout window curtains in living rooms add to your privacy. You prevent anyone on the outside from peeking inside and seeing what's going on. All in all, blackout window curtains for living rooms and bedrooms offer fantastic covering solutions at very affordable costs.
Cheapest Window Curtains Near You
Get a bargain on custom made blackout draperies for homes, business, or other properties. With an assortment of designs and colors (including white blackout curtains), you can decorate the room in any way you want. We give every customer free estimates on blackout curtains for windows in the Oceanside area. So call us today, schedule a free consultation, and see what beautiful and affordable draperies we can make for you.