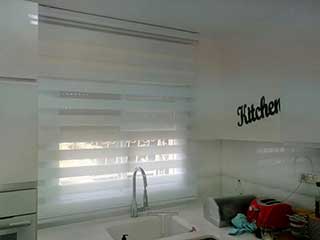 If you want window coverings that look great and don't flaunt gaudy excessive features, then roller shades will probably be the choice for you. These window coverings consist of a sheet of sheer or opaque fabric that rolls (as the name suggests) in order to open and close. This allows for very simple and easy light control and makes for an excellent décor enhancement for every type of room. Their simple style makes them surpassingly versatile, as there are no elaborate manipulations required to open and close the shades. This lends to all sorts of options in terms of custom making them to suit your needs and taste.
Perfect For Any Window
Whether you're looking for window treatments for your home or for an office, custom made roller shades can be a perfect fit. The simplistic structure allows you to choose virtually any color or design you want. You have just as wide a selection when it comes to types of fabrics. You can choose to go for sheer roller shades or opaque ones, and a range of various options that fall somewhere between those two endpoints. For bedrooms and TV rooms, often blackout roller shades make for the right choice. Light filtering ones are great for kitchens, where you want to utilize natural lighting and have some beautiful view. They also work great for all types of office spaces.
Motorized Roller Shades
One of the major benefits of the simplicity of custom made roller shades is the ability to automate them. You can choose to have them open and close based on a daily schedule, which will help you maximize your use of natural sunlight. You also have the option to integrate your motorized roller shades with your smart home system, which will give you the option to control them using voice commands. The sheer convenience that comes with automatic window coverings has made them one of the staples in modern day smart homes.
Free Consultations Available
Set up a face to face meeting with one of our experts at your home, and design your new custom made roller shades to look and work exactly how you want them to. Blinds & Shades Oceanside offers a range of customization options to help every nearby home and business owner get the best coverings for their windows. From blackout to light filtering roller shades and any other type of window treatment you can think of. The selection is as varied as your imagination.