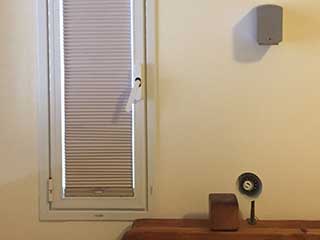 Light control and privacy are never more important than they are for a bedroom. The effects that unwanted light, darkness, or temperature changes can have on your sleep can be much more serious than people often realize. If there's one room in the house that you don't want people peeking in on, it's the bedroom. Pick the right blinds or curtains for your bedroom windows, and life can be that much more peaceful. Here are some of the best options, with their advantages listed for you to judge.
Blackout Curtains And Blinds

Blackout window coverings aren't necessarily black. Rather, they're made of a very thick and opaque fabric that completely blocks out the sunlight. That means you can get them made in a range of colors. As long as the material is thick and opaque enough, the blackout curtains will serve their purpose while also complementing the décor.

Total protection from unwanted early or late sunlight.
Near total prevention of anyone seeing inside of your window while down.
Lets in much more air and creates a more comfortable atmosphere than solid shutters.

Cellular And Honeycomb Shades

These roller shades are made of wood, bamboo, or synthetic tubes in two or three overlapping layers. In addition to providing good sunlight and privacy protection, cellular shades are specially designed to prevent heat diffusion.

Keeps the outside temperature from affecting the room, keeping you warm or cool as needed.
Roller mount makes this style easy to motorize, for remote, timer, or sensor control.
Very effective against sunlight and outside observers, with the addition of a fabric lining.

Roman Shades For Bedrooms

Roman style pleated shades are second to none when it comes to restful bedroom aesthetics. With the right choice of colors and materials, they can also be very protective. The elegance Roman shades provide when stacked into neat pleats will add a beautiful décor enhancement to your bedroom. When made from opaque materials, blackout Roman shades serve multiple purposes and work great for sunlight blocking and design complementation.

Beautiful, homey, and easy to customize with colors, patterns, and embellishments like slits or tails.
Effective at blocking out sunlight, if made from a thicker and darker fabric type.
Easy to use, and come in a string-less variety. Cordless Roman shades leave no dangling strings and therefore don't pose safety risks and are considered childproof blinds.

Blackout Venetian Blinds

Venetian blinds mix some of the better traits of rigid blind style window treatments with those of flexible shades. They're some of the most adjustable window coverings out there, which makes them excellent at sunlight adjustment. These are great for bedrooms, especially motorized Venetian blinds, which you can control with smartphones, remotes, and even voice commands.

Venetian blinds can be both opened and closed, and rotated in place, to adjust light levels.
When fully closed, Venetian blinds keep out nearly all sunlight and ensure complete privacy.
Loose hanging sheets let in plenty of air without letting too much sunlight glare get through.

Top Down Blinds

Blinds that open downward and leave open glass at the top of the window are popular for bedroom use. This style of blinds can also be combined with blackout or Venetian blind materials.

Leaving the blinds partly open lets in light, but still prevents people from seeing inside.
Can let sunlight in to illuminate the room while keeping it off of the bed and other furniture.
Motorized top down blinds are easy to automate and control via remote, sensors, or timers.
The Right Blinds For Your Oceanside Bedroom Windows
Contact Blinds & Shades Oceanside to what kinds of custom window treatments you can get for yours. Get a free estimate on bedroom blinds, shades, or curtains from nearby experts.