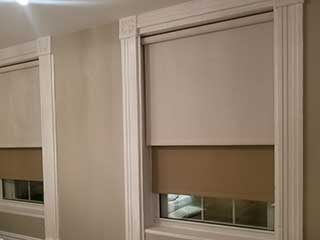 Many rooms get too hot or too bright during the day. This isn't the only issue, either. In many rooms, you can feel like you don't get the levels of privacy you truly need. This is a common problem in bedrooms, for instance, where the wrong window coverings can become a big problem. Blackout blinds for bedrooms take care of this problem, and these treatments are also ideal for almost any other room in a home or workplace. If you've ever found yourself squinting in bright sunlight, then our blackout blinds are right for you. Call us at Blinds & Shades Oceanside and we'll book you in for a free in-person consultation.
Cheap Custom Made Blackout Blinds
Don't break the bank when improving your home or office. Our low-priced blinds are the perfect addition to any room, and you'll be amazed at how little it can cost to get premium-quality fittings throughout the building. We're Oceanside's go-to experts when it comes to room darkening window coverings. People know that we offer the best blackout blinds there are, and we're proud to provide our services throughout your local area. Call us today and find out how great our rates are.
Blackout Window Treatments At Work
No workplace should be uncomfortable, but far too many subject workers to glaring sunlight or dingy meeting rooms. This is a sure-fire recipe for headaches and strained eyes. Get rid of these productivity-reducing problems by designing blackout blinds for office windows. We offer made-to-measure window coverings with all the professional design options you could need. Impress customers with your sleek, well-lit meeting rooms and comfortable breakout rooms. To complete the image, why not choose motorized blackout blinds? You can control light levels all across the office directly from a control panel, allowing you to cut out unwanted light with ease. Get a free quote and consultation today by contacting our Oceanside-based specialists.
Blackout Blinds For Oceanside Doors & Windows
Our custom-built designs are appropriate for any window size. Blackout blinds for French doors are no problem, and our products are specially-designed to enable easy use of your doors. That means you can let light and air in when you want to, but keep it out altogether when necessary. Our range goes right to the other extreme, offering blackout blinds for skylights so you can prevent the overhead sun from beaming in. This extensive selection of different room darkening blinds comes with our same amazing low price. Affordability combined with quality is always our goal. You won't have to think hard about investing in custom blackout blinds. Get amazing benefits and a great deal on custom window treatments by contacting us for a free estimate.
Your Local Oceanside Blackout Blind Experts
You should never settle for less than top quality, and that's what we promise to provide. That, at fair and affordable costs that won't send you reaching for the piggy banks. From start to finish, we here at Blinds & Shades Oceanside pride ourselves on delivering the best blackout window coverings there are. You'll get total control over style, patterns, materials, and colors, so you can know your new blinds will look perfect. Set up a free consultation appointment (delivered in person) by getting in touch today.