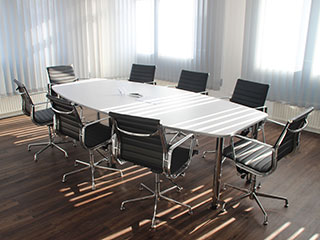 Small or regular-sized windows can do with all sorts of treatments. For larger-framed openings, you'll want to think about vertical blinds. These treatments offer a made-to-measure solution for covering window walls and patio doors, among other larger windows and surfaces. With custom made vertical blinds, you gain an aesthetic benefit, as well as an effective way to control natural lighting. You can also combine vertical blinds with curtains, valances, and other draperies. Therefore, these vertical window treatments don't require any compromise in terms of décor. For Oceanside office spaces, stores, or residential properties, vertical blinds can suit perfectly. Window treatments need to provide more than just decorative additions. It's important the blinds you choose for your windows also do the best job possible for controlling natural light.
Vertical Blinds Vs. Regular Window Treatments
So what distinguished vertical blinds from other types of window coverings. The name says it all. With regular blinds, you've got vanes built in a horizontal fashion. That's fine and well, but with large window walls, these horizontal vanes can start bending around the center, since they've got no support there. However, vertical blinds won't experience that. As the name hints, their vanes have a vertical build, making them great for even the largest of windows. Choosing vertical blinds for Oceanside office window walls also harbors a classic aesthetic. With materials like aluminum, vinyl, and even faux wood vertical blinds available, you can elevate décor as well as utility. Combine vertical blinds with drapes or curtains, and you've got a beautiful aesthetic to go with all sorts of décors.
Smart Motorized Vertical Window Treatments
Of course, you've got special remote control blinds motorization features you can take advantage of with vertical blinds too. With special rails and setups, you can get motorized vertical blinds that you can adjust via a remote. Want to increase natural lighting inside? Push the button and your motorized vertical blinds will adjust their vanes to open more. You can also get vertical blinds that move along the rail to cover more or less of the window in question. This, combined with motorized draperies, makes electric vertical blinds a highly sought out covering solution in Oceanside and all over. The vertical window treatments that cover window walls and sliding glass patio doors can do more than block sunlight. You can utilize them for creating beautiful décor inside any business or home.
Made-To-Measure Vertical Blinds For Oceanside Customers
We offer special offers to all local properties, ensuring customers get the best bang for their buck with every order. You can pick and choose different aspects of your new custom made vertical blinds, ensuring everything from aesthetic to utility suits your taste. With a low price range and lots of design choices, our motorized vertical blinds can fit different rooms in different styles. Start by booking a free estimate from our local team. Get your windows looking great and excellent at sunlight control with help from the best vertical blinds installers in Oceanside. Call or use our online system to schedule your free consultation.