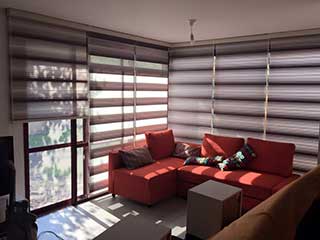 The newest innovation in shades has also become one of the most popular due to how effective and sleek its design is! Get the best of both blinds and shades all in one with this excellent style. You'll wonder how you ever lived without them!
Help Save Energy
Rather than have to decide between no sunlight, or allowing it in and letting your home heat up more than it needs to and cause the air to run, choose layered shades instead! This type of window coverings will allow you to have soft, natural light throughout your home, but also keep the heat reduced as well. This also protects your furniture, art, and otherwise from bleaching due to long term exposure to the sun.
Modern And Efficiency In One
The way layered shades are able to help reduce energy waste, let in sunlight, and more is all due to its specialized design. It combines sheer and solid vanes of fabric in an alternating pattern. So, while closed, light will be filtered through the sheer vanes as well as allow you to see outside. When you decide it's time to close out the sunlight completely to watch TV or get some sleep, all you have to do is close the sheer vanes. Then, all that remains is the solid fabric that will block it completely! They're really just that easy to use.
Perfect For The Bedroom And More
One of the other benefits of this style of shades is how easily they complement most rooms! Their simple design with strong, solid lines won't overwhelm any aesthetic already in place, or draw attention away from the rest of the furnishings. Instead, it creates a modern, stylish backdrop against the rest of the room! Different hues of color can be selected as well to ensure that it matches beautifully.
There's No Need To Wait
Contact Blinds & Shades Oceanside today to find out more information about layered shades and how they can improve energy efficiency, privacy, and more! Our team is ready to answer your questions in no time. You can count on us to help!