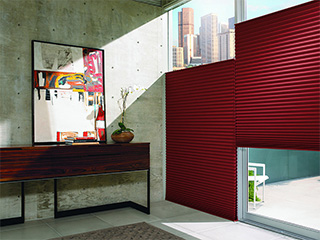 You want to get as much as you can out of your window blinds and shades, right? Well, when it comes to functionality and utility, it's hard to compete with the pros that custom made cellular shades bring to the table. These window coverings more than block or filter sunlight. Another advantage they offer is helping you keep hot air from escaping or getting in, thus saving you money on energy in the long run. These shades have so many benefits and virtually no downsides.
Insulating Window Shades
The main attraction of cellular shades is their ability to create an air barrier between the interior side of the window and its exterior side. During summer, hot air will seep into the room via an open window, which can be a major hassle if looking to keep nice and cool indoor temperatures. With cellular shades draped over the frame, that won't be such a problem. The same goes for winter. During the cold season, those looking to reduce heat loss should consider using cellular shades. These coverings lower heat transfer rate and make things a little (or a lot) easier on your HVAC system.
How Cellular Shades Work
These layered window coverings have pockets sewn into the fabric to create an enhanced buffer. This barrier traps hot air and prevents it from traveling through from one side to the other. Custom made cellular shades are often be made in various sizes, including double and single celled, and from small to large pocket sizes.
Not Without Customization
While the cellular structure of these shades doesn't allow for as much versatility as other types of window coverings, there's still plenty to be had. You can choose different colors and design patterns to decorate the shades with. You can also decide on a range of opaque or sheer fabrics, which will also enhance your privacy or allow you to utilize natural sunlight. Different rooms will need variations, so it's important that you find the perfect combination of fabric, color, and cell size and structure for your specific needs.
How Do I know If I Should Get Cellular Shades?
The answer to this question is simple. Contact us at Blinds & Shades Oceanside and you meet with a nearby expert for a free in-person consultation at your home or at your office. Our representative will answer any and all questions and help you customize a set of cellular shades or any other type of window treatment. Get the best custom made shades available today for a fraction of the usual costs.