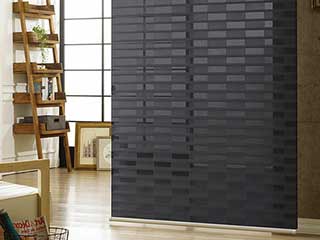 Blinds and shades, while synonymous, aren't exactly the same thing. Sheer shades are a type of window covering that combines the best of both worlds to bring you both privacy and light control in an easy and beautiful way. Shades, in general, need to enhance a room's décor, sure, but they also need to offer you light filtering and blocking options. This is the main purpose of window coverings after all. Direct sunlight can hurt our eyes, damage our skin, and cause paint to gradually fade. So while it's excellent to use natural light to brighten up a room, it's just as important to have the ability to protect ourselves from its less favorable qualities. Sheer shades offer a great way to do both of those things, with some extra versatility and functionality thrown in there for good measure.
So How Do Sheer Shades Work?
These beautiful coverings utilize the vane structure of blinds but also have a sheet of fabric as a backdrop. This allows for a lot of customization and adjustments. You can roll the shades up or down all the way, and you can also adjust the position of their vanes for extra nuance corrections. This allows you to choose between a vast range of light filtering and room darkening options, which is what makes sheer shades so darn great. These window coverings utilize the adjustable structure of blinds (vanes) but apply it to the soft fabric of shades. This gives you virtually all the benefits of both with none of the downsides.
So Much Style and Beauty
One of the main advantages of sheer shades is their customizability. You can choose different types of fabrics, various levels of opacity, and of course, all sorts of colors and patterns for the design. This can make it very easy for you to enhance the interior décor of a room while also adding a way to control direct sunlight exposure, utilize natural lighting, and protect your privacy.
The Perfect Shades To Motorize
If you're too enthused with the thought of adjusting the vanes of your sheer shades to control sunlight, have no fear. Motorized sheer shades offer you simple and fast control methods that utilize state of the art technological innovations. You can opt for a classic remote control or a wall switch, sure. But you also have the option to use your smartphone to control your motorized sheer shades. That's not all, of course. You can also get special sensors installed that will automate the shades and have them adjust themselves according to brightness and temperature. You can also integrate your automatic sheer shades with your smart home system and use voice commands to control them. With Somfy and Lutron products, there's complete versatility in terms of operation methods.
The Perfect Window Treatments?
Why a question? Because perfect can be a relative term. But there's no arguing that custom made sheer shades are one of the best choices out there. Their vast range of benefits makes them worthy of your consideration if nothing else. To learn more about these window coverings and all of the other available options, get in touch with Blinds & Shades Oceanside today to set up a free consultation appointment.