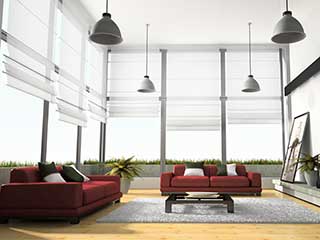 So you're thinking of getting motorized shades installed. To say this would be a good decision would be an understatement as electric blinds are by far the best kind of window treatment that you can get. The benefits automatic shades offer are plentiful, and the added costs easily end up paying for themselves with convenience, time-saving, and even lower energy bills. Practically any type of window covering can be motorized, so you really have a near limitless range of designs and styles to choose from. Somfy and Lutron are known for the varied and innovative motorization and control products they offer. The modern possibilities are truly amazing. But when it comes to powering the motorization process, there's less variety. There are a few different ways to power your motorized shades, and here you can find a short overview of each one.
Hardwired Blinds For Smooth Performance
The main benefits presented by electric blinds that are hardwired to your electrical network is faster and steady performance. You can control several different sets of shades simultaneously, and have them move in unison. With hardwired electric blinds, there won't be any stuttering or slowing down related to electrical glitches, and the performance will remain reliable. As for potential downsides, if there's a power outage, naturally, the automatic shades won't work. The installation of hardwired blinds and shades is also considered more complex, but once it's done it tends to be more eye-pleasing.
Battery Powered Blinds For Simplicity
The main attraction of battery powered electric blinds is that you can use them even when the main power goes out. The independent power source allows your automatic shades to keep working even during blackouts. Another plus is that battery powered electric blinds are far easier to install. It doesn't require tapping into your home's electric grid and the battery pack can be concealed with valances or neatly stacked in a nondescript way. As for disadvantages, battery powered electric shades do tend to move slower than hardwired blinds. If you want to connect a few sets to operate simultaneously, the result won't be as smooth and unified.
Solar Powered Blinds and Shades
The third option, which is becoming increasingly more popular, is to have your automatic blinds and shades draw energy from sunlight. The very thing which they're blocking or filtering can, in turn, serve as a source of power. By using solar panels to harness the sun's energy and transferring it to the motor of your motorized blinds, you can enjoy a much 'greener' form of automatic window coverings. Power outages won't affect the performance of solar powered shades. However, cloudy weather and an overcast sky will. The absence of sunlight for a certain length of time will result in your shades running out of juice. Another disadvantage is that the installation process of solar powered blinds is more complicated than the other types.
Choose The Electric Blinds That Fit Your Needs
Keep in mind that you don't have to only choose one type, and that it's very possible to combine hardwired electric blinds with a backup battery or with solar panels. This allows you to cover all your bases, so to speak, and ensure that your automatic shades continue working through all types of weather and scenarios. To learn more about motorized blinds and shades and the different features that they present, contact Blinds & Shades Oceanside and book a free consultation appointment.