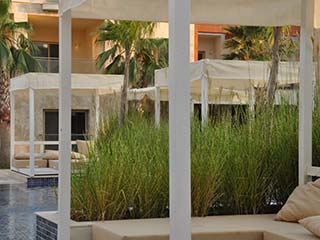 From heavy-duty motorized patio covers to gauzy pop-up canopies, outdoor shades are important for making your outdoor property usable and stylish. The ability to leave patio furniture outside without it getting soaked or sun-bleached opens a lot of utility for your outdoor space. So does being able to sit outside on very bright or rainy days without risking your comfort or your health. Our custom-made patio shades and covers come in all shapes and sizes, with a range of optional features. For excellent quality patio covers near the Oceanside area, you can always turn to us to receive a free estimate. Patios come in all sorts of designs, so it's important to find covers that work with that. From flexible canopies to motorized rolling outdoor covers, you've got all sorts of choices.
Motorized Patio Shades Installation in Oceanside
More and more often these days, people are choosing motorized patio covers over the old-fashioned static or hand-adjusted kinds. You can control motorized patio shades by a switch, remote control, or even from your phone if you choose to go online. Motorized awnings are especially good for restaurants with outdoor seating, yards that you intend kids to play in, and guesthouse patios. Being able to cover or expose these spaces at a second's notice, from across the city if need be, saves you a lot of stress. Mount some solar panels on your motorized patio covers, and they can even pay for themselves in a few years! Smart motorized patio covers with Wi-Fi remote control options make your Oceanside patio a standout piece of the 21st century.
Awnings Or Freestanding Patio Shades?
The typical patio hugs the ground floor of the building. Since there's a big old wall right next to the space that needs covering, it makes sense to use it for support. Motorized awnings and supported patio roofs are both viable in these conditions. Or, if you want a lower tech solution, you can try sail shades. These are simple fabric shades that you stretch taut between attachment points on the wall and the leading edge of the patio. On the other hand, not every patio has a wall right next to it for support. For a detached patio or courtyard, you'll need freestanding patio shades. These shades have their own support poles and frames or even act as freestanding walls on their own. Motorized patio shades come in the awning and freestanding styles alike.
Pop-Up Canopies and Patio Tents
Patio canopy tents are a slightly more complicated solution, but one with a unique sense of style. A pop-up canopy is a large tent built to size for your outdoor property, usually with at least one wall open. One or two-sided canopy tents work in the crook of a building or over a typical hanging patio. Three-sided or enclosed canopies can turn a detached deck into a shady, airy little building of its own. You can combine canopy frameworks with motorized patio shades by getting some pergola-style roller models. These outdoor canopies can work for Oceanside decks, porches, and even yards and lawns.
Cheap Custom Outdoor Shades
From simple canvass sail shades to the most sophisticated smart-controlled solar motorized patio covers, we can give you exactly the shades you want! With free estimates and consultation available to all prospective customers, our custom made outdoor shade products are inexpensive as well as sturdy. Call to start with a free estimate provided by nearby Oceanside patio cover installers. With our expertise and affordable prices, every design is achievable.