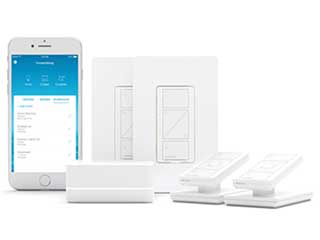 With the advancement of technology, motorized window coverings have gotten beautiful and functional. Smart Lutron shades make for one of the most popular choices for window treatments. You can use different variations and designs for window shades with Lutron controls to maximize wireless remote control as well as aesthetics. Perfect for homes and businesses, smart window shades offer you full automation that controls natural lighting and temperature. Our Oceanside Lutron shade installers offer customers custom made solutions for all manner of properties. And with the free estimates we provide, you can choose different aspects and special wireless features for motorized shades to go on windows, doors, skylights, or even glass walls.
Wireless Motorized Shades by Lutron
Lots of benefits come with automatic window coverings. For once, you don't have to manually pull or roll the shades to the position you want them to occupy. Even with the simplest solutions, all you do is push the remote and your motorized Lutron shades will respond. And with more advanced features, like temperature and brightness sensors, smart Lutron shades can adjust their position without you even doing anything. The motorized window covering solutions you can choose for your Oceanside kitchen, living room, office, or any other space give you a multitude of features to pick from. Motorized Luton shades help you save money on energy too. By controlling sunlight, you influence indoor temperature, and you've got a variety of automatic choices to make these custom made window shades perfect for any need.
Blackout and Sheer Lutron Shades For Windows
The material used for window coverings influences various aspects of their utility. Rooms where you need sunlight for most of the day, but don't want to suffer glare, will benefit from sunlight diffusion. Sheer Lutron shades eliminate the harmful aspects of sunlight but still allow soft brightness to illuminate the space. Sheer shades with motors give you an easy way to diffuse sunlight for the benefits without worrying about the harmful aspects of direct exposure. On the other hand, you've got blackout Lutron shades that make for excellent choices for various spaces as well. For bedrooms, blackout window shades, motorized with smart controls, offer a major improvement to sleep. You can also get blackout Lutron shades for office spaces, for complete privacy at the push of a button. Blackout and sheer window coverings with Lutron controls offer improvements that can give any property a serious upgrade.
Oceanside Lutron Shades Custom Made
Take advantage of the free consultations we provide to find the right motorized window shades for your property. With Wi-Fi remote controls, switches, and all sorts of dimmers and such, Lutron shades have plenty of options to offer any customer. And we have beautiful designs to present to you as well! So book a free estimate and see what Lutron shades features you like best for your residence or commercial space.